The Rainbow Orchid, vols. 1-2
9 year-old guest blogger reports:
Filled with action, suspense, and humor,
The Rainbow Orchid
books (
link
) are a magnificent piece of art.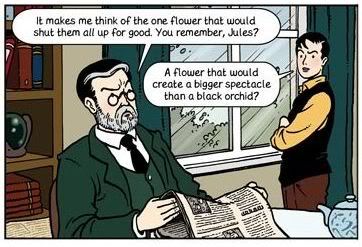 Illustrated by
Garen Ewing
, they take us from England to France, and from France to India, all in search the mythical
Rainbow Orchid.
Drawn almost
exactly
like Herge's
Tintin
albums, the characters leap off every page as they search.
I recommend it to all who fancy 1930-style comics.