Where all roads begin
Tokyo, a friend tells me, "terrifies people." It is immense - 36 million people live in the general neighborhood, 13 million in the city proper. And it seems center-less - the Ginza, the Imperial Palace, the Financial District are all present, but not focal. From the Mandarin Oriental in Nihonbashi one
sees
an almost continuous fabric of 8-12 story buildings, interrupted by occasional apartment towers and radio masts, a sea of high-density post-War construction.
And yet there is a center. Looking closer, one notices that many of the roads seem to head directly toward the hotel. That is because the Mandarin stands close to
Nihonbashi
- the Bridge of Japan, and starting point of the
Tōkaidō
and
Kiso Kaidō
roads.
Keisai Eisen, Nihonbashi - First of the Sixty-nine Stages of the Kiso Kaidō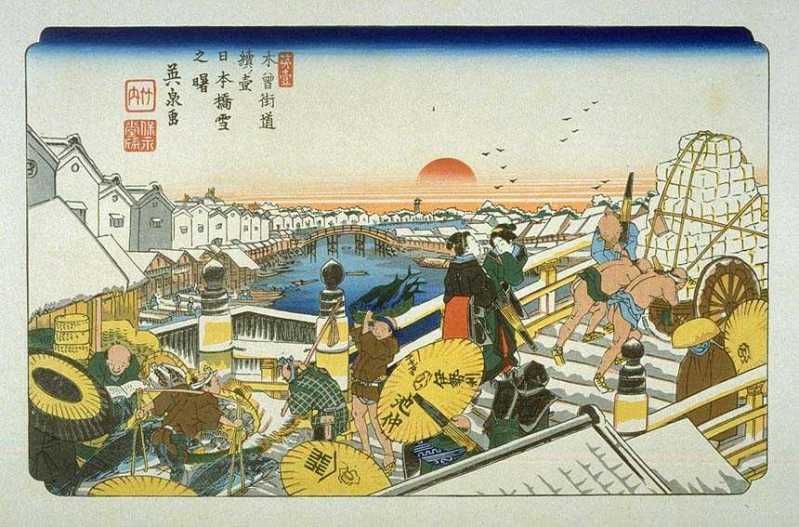 In all there were
five primary roads
in the Edo period, and they all began here,
at this spot
. Bashō must have taken his first steps on
The
Narrow Road to the Deep North
here. And those who came to this city, whether alone or at the head of a column of retainers, crossed this bridge to enter.
But it is the departures that capture my imagination, the first steps away from the busy and self-absorbed metropolis, away from the secure and familiar, and toward the wild, and the unknown.