Dropping in at Salisbury
During our UK trip I had to concede one day to the generic Tourist Tour - Stonhenge (mobbed), Bath (mobbed), and along the way...
Salisbury Cathedral
.
I thought of Salisbury as a bit of a throw-in on the tour - a place near the lunch stop where they could move us to a little less-congested spot for a while. Salisbury is unique for several reasons. Its churchyard was cleared in the Victorian era, creating
open space around
the structure that gives you room to step back and look at it, and to walk around in. It towers majestically over that open space: its 6,500 ton
spire
is the highest in the UK, and would likely have toppled by now had not Christopher Wren put in tie beams in 1668.
Salisbury also stands out for its architectural coherence. Built in the relatively brief span of 38 years (1220-1258), it is a pure exemplar of the
Early English Gothic style
.
And then there's the black man standing up there. Wait, what?
Yes, there, at the left hand of
St. Thomas of Canterbury
, the fellow holding the coffee mug. Excuted by
Sean Henry
, the statue is one of over 20 that will be
in residence
at various places around the cathedral through the end of October. (The BBC offers a fine photo tour
here
.)
Now ordinarily I have no patience for this sort of thing, because it never works. The modern has very little to say to the ancient, I believe. Because life is so convenient now - because our genuine suffering is so infrequent - I find it hard to imagine that any modern artist can add much to what is already there. Adult life expectancy when this place was built was around 35 years, child mortality was probably 30-50%, there were no treatments for infectious diseases, appendicitis, etc. We know much more than they did about many things, but suffering? The meaning of life? I doubt it.
But I found Henry's sculpture arresting, as well as several others in the installation. Henry makes a valid point - the saints are already well-represented, but what about the people who lived here and came here? "I'm interested in memorialising the everyday," he says.
Henry adds, but does not intrude. The statues he has placed look like they belong there - they express some of the sentiments that perhaps motivate someone to go to church in the first place, such as this fellow who has taken refuge from the institutional madness of his career: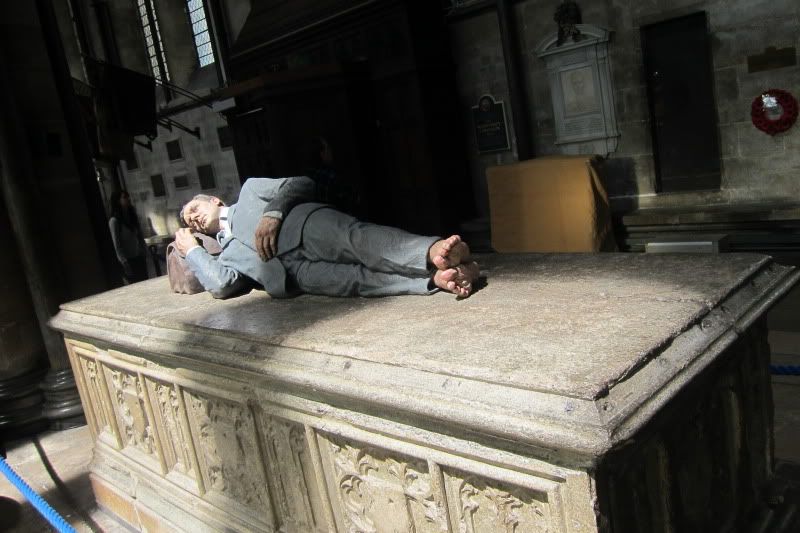 Or this man (I thought he was real for a moment) who could have walked out of a field at almost any time in the past thousand years: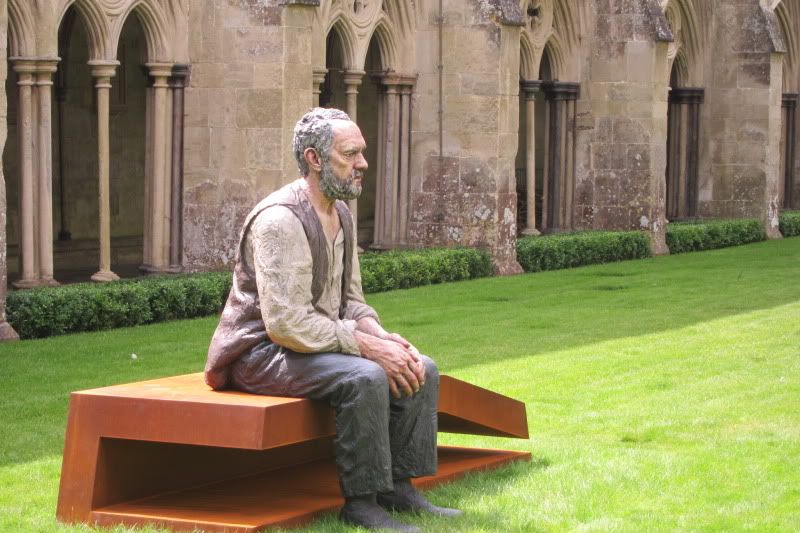 The experience of the exhibition is not shocking so much as evocative. We are so used to walking through empty cathedrals, Henry reminds us of a time when they were full, and necessary, and shows us what kind of people went there.
The cathedral itself is magnificent, and while I still have my reservations, Henry's installation is beautiful and well-judged. It reminds us gently of things we might prefer not be reminded of, without disrupting the original intentions or current purpose of the structure. It deserves respect at least, maybe quite a bit more.