Café Divine (belated) review
For a while there Washington Square was a restaurant graveyard. Some of favorite places (not just mine) went by the wayside: Little City, Moose's and the WashBag (
farewell Ed
), Caffé Malvina... For a while
Mama's
tried to hold the fort alone, but man cannot live by brunch alone.
Things are looking up. We looked in at the Park Tavern today, and it does look like a
worthy successor to Moose's
.
But the real discovery was next door at Café Divine, in the old Caffé Malvina space at the corner of Stockton and Union. Back in the day, when the market was beating my brains out, I'd come on a quiet weekday to just sit there. The food wasn't special, and I don't remember much about it except how much I loved the space. Formerly a corner drugstore, it had a mosaic floor and 20-foot windows. I could sit there for hours, and sometimes business was slow enough they'd let me.
Café Divine has taken that space and made a
real nice restaurant
of it. There's a simple but excellent
menu
with pizzettas, prix-fixe dinner if you want it, and terrific desserts.
And one badass espresso machine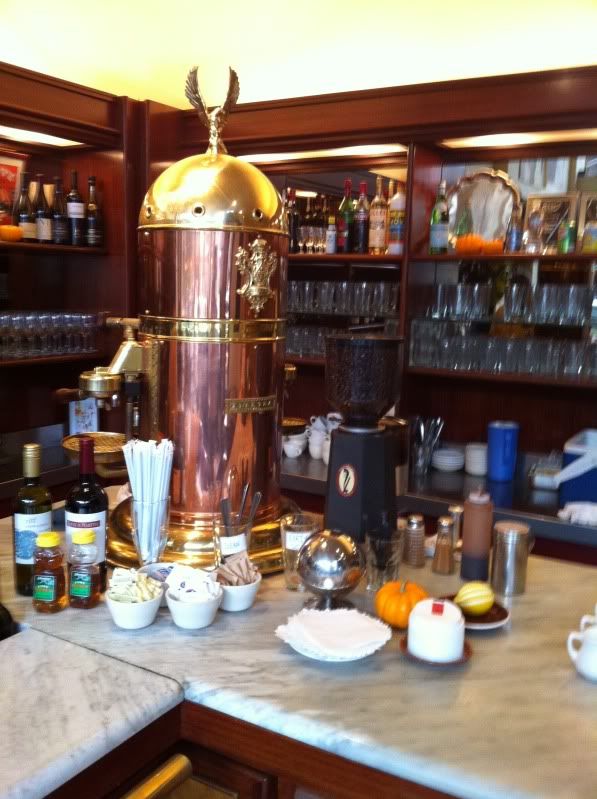 We weren't there during one of the musical performances, but we had a great time anyway. They've obviously figured this out. My only regret was that I hadn't looked in sooner.
5/5