Preliminary notes toward a sketch of a comparison of Grossman and Orton
As I reflected on the idea that somewhere, there is a football organization that wants Kyle Orton - and, unable to sign him, thinks Rex Grossman would be pretty good instead, I thought I'd present a couple more thoughts on these two longstanding journeyman.
First of all, they probably had the right idea in going for Orton first. Both Orton and Grossman were bad with the Bears, almost identically so. But, while Grossman went on to be bad with the Redskins, Orton improved noticeably after escaping CrappyQuarterback U:
Grossman's Passer Rating
Chicago - 70.2 (31 starts)
Washington - 74.4 (16 starts)
Orton's Passer Rating
Chicago - 71.1 (33 starts)
Denver - 85.7 (33 starts)
Ironically, however, while both players' performance improved after leaving the Bears, their subsequent achievements demonstrate just how good those Bears teams were, and how much they left on the table by not having a real quarterback play the position.
As badly as Grossman played in Chicago, even he could not prevent the team from achieving significant success. Those victories in Chicago mean that he is 27-24 lifetime as an NFL starter...not too bad, until you look at the details. Here is a plot of his career - it is a graph of how many games his team won out of the last five he started:
Why are the Redskins so desperate?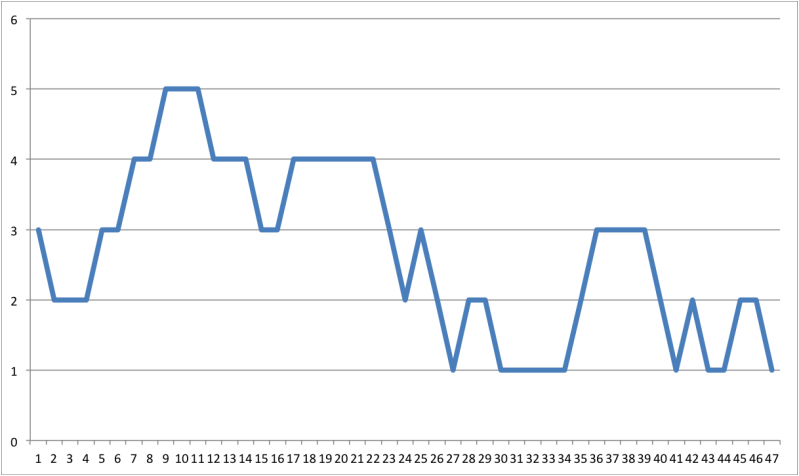 There was a time, once, when you could utter the words "Rex Grossman" and "winning streak" in the same sentence. But those days are long past. Most of the time the past few years, Rex's team has been lucky to do better than one victory over a given five game stretch. And maybe that is one reason Washington is willing to take some risks to try and get quality at the position.
But isn't it striking, knowing now just how bad Rex Grossman is, that Chicago was able to win - and win consistently - with him at the helm? Who knows what they might have accomplished with a more competent quarterback?
Although Orton had better personal statistics after leaving Chicago, his story is much the same. Unlike Grossman, who played badly for both a good team and a bad one, Orton got to play fairly well for a bad team. The results are the same:
And then it was Tebow time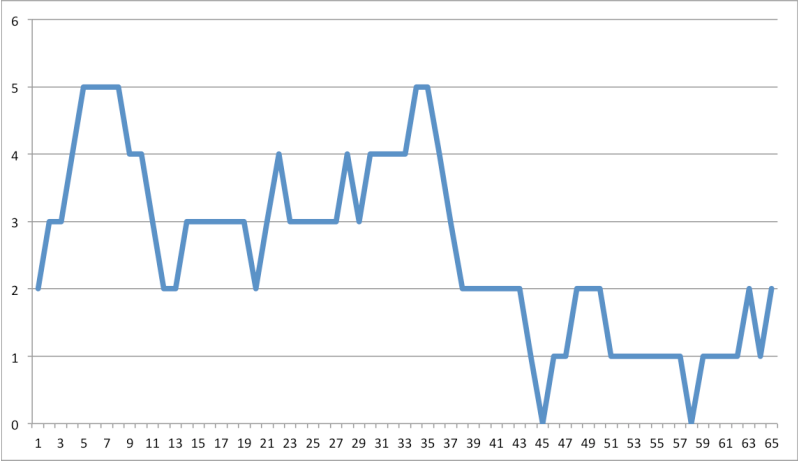 So Orton
has
accomplished more than Grossman. For one thing he has managed, on two separate occasions, to lose five consecutive starts.
It is amazing to me that any football executive would look at these players and think them deserving of a contract. That an organization would seriously consider
both
of them, and actually sign one, is just mind-boggling, even if it is just a one-year deal.
But there is an even greater fool. Last year the Redskins offered Grossman a multi-year contract. He
turned it down
.